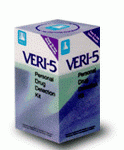 Veri-5 is a personal drug screen collection kit that can be used confidentially in your own home. Collect a urine specimen, in the provided container with a confidential PIN number, and drop it off at the closest DLS satellite lab for accurate and confidential testing. Call 589-5282 the next workday morning, provide your PIN number and receive the results confidentially over the phone.
Use for a personal drug test or to test a family member. Veri-5 tests for five popular street drugs: amphetamines "crystal meth" or "ice", cocaine, marijuana, opiates and PCP.
Provides you accurate laboratory drug testing without a physician request.
Have an experienced laboratory run your test. No kit to figure out, interpret, and wonder if the test is accurate.
Results given by confidential PIN number over the phone.
---
NOTE: Veri-5 results are not intended for medical, workplace or law enforcement purposes.
Veri-5 is available at all DLS Satellite Locations.
Questions? Read the Veri-5 FAQs
---