Let Us Serve You
Diagnostic Laboratory Services (DLS) will generate and submit a claim to your primary and secondary insurance carrier. To ensure timely and accurate insurance filing, it is important that DLS receives or verifies ALL of your correct information which includes your address, telephone number, and valid insurance information at the time of service.
Information Required for Single or Dual Insurance Coverage:
Health Plan Name
Health plan address and telephone number or copy of insurance card (front & back)
Subscriber / Membership name
Subscriber / Membership ID number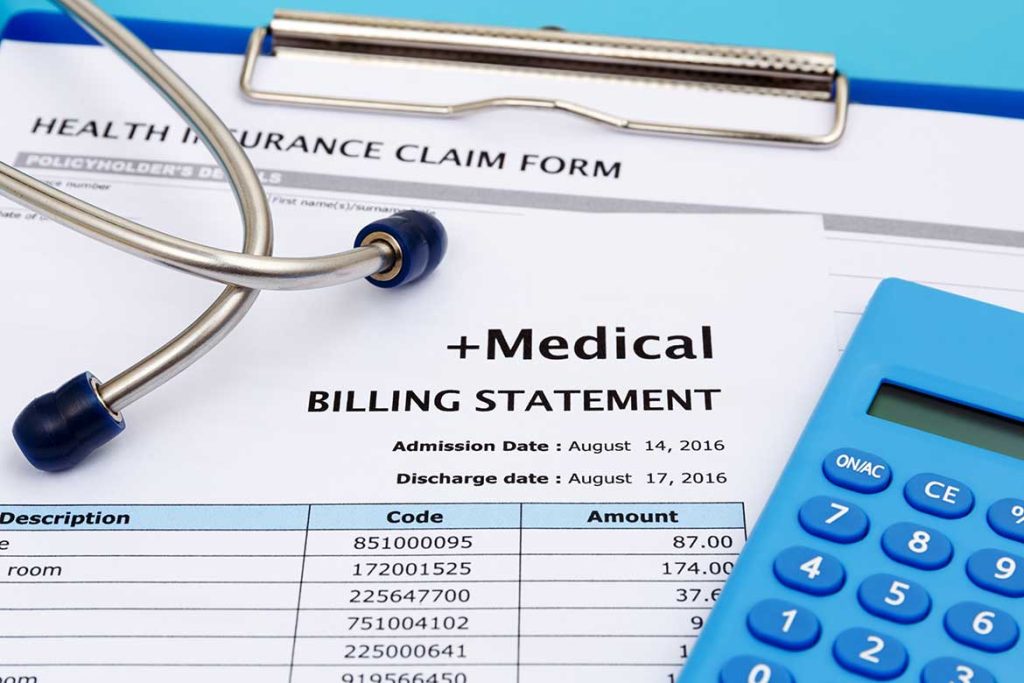 Participating Health Insurance Plans
* requires front & back copy of card *
AARP

Aetna (PPO)*

AIU
Aloha Care Quest
Aloha Care Advantage
BC Life & Health
Blue Cross / Blue Shield
Calvo's (Select Care)
Champ VA

CIGNA (PPO)*

Connecticut General Life (PPO)*

Deseret Healthcare
Deseret Mutual
Evercare
Evercare Quest
Guam Medicaid
Guam MIP
Health Net (PPO)
Hawaii Electrician Health & Welfare Fund
Hawaii Management Alliance Association
HMA, Inc
HMSA
HMSA Akamai Advantage
HMSA Federal Employee
HMSA Quest
Humana
Kaiser Added Choice
Kaiser Quest
Kaiser Senior
Kaiser Health (Kauai Residents Only)
Mail Handlers
Medicaid (ACS)
Medicare
Netcare Life & Health
No Fault Insurance*

Ohana Quest
Pacific Care
Pacific Administrators
Plumber & Fitters Medical Plan
MDX Hawaii
Railroad Medicare
Secure Horizon
Staywell (Island Home Insurance)
TakeCare Insurance Company
Tricare for Life
Triwest

United Healthcare*

University Health Alliance
Veterans Administration

Workers Compensation*

Wellcare
Disclaimer
If your health plan is not listed please contact your insurance carrier to verify participation. Medicare Advantage Plans are health plan options that are approved by Medicare and administered by private companies; this is accepted by Diagnostic Laboratory Services, Inc.

Patient Financial Responsibility
Please refer to your plan benefit or contact your insurance carrier on the following.
Lab test(s) ordered by a Naturopathic physician may not be covered by your plan.
Some lab test(s) require a referral and / or pre-authorization.
Lab test(s) deemed experimental and / or investigational by your insurance is the responsibility of the patient.
The patient is responsible for Co-Payment and deductible.
DLS Payment Policy
Payment is due upon receipt of the billing statement.
Deductibles, co-payments, and non-covered / investigational testing are the responsibility of the patient.
We are happy to work with you if you are experiencing difficulty in paying your bill.
How to Make a Payment
Diagnostic Laboratory Services accepts payment made by cash, personal check, money order, or credit cards. We accept VISA, MasterCard, American Express, and Discover. Debit cards with the VISA and MasterCard logo are also accepted. Payments can be made in the following ways:

Pay Online:
You may pay by credit or debit card online through our secured website here:
Pay by Mail:
Use the return envelope provided with your billing statement to make a payment by check, money order, or credit card.
Please DO NOT send cash by mail.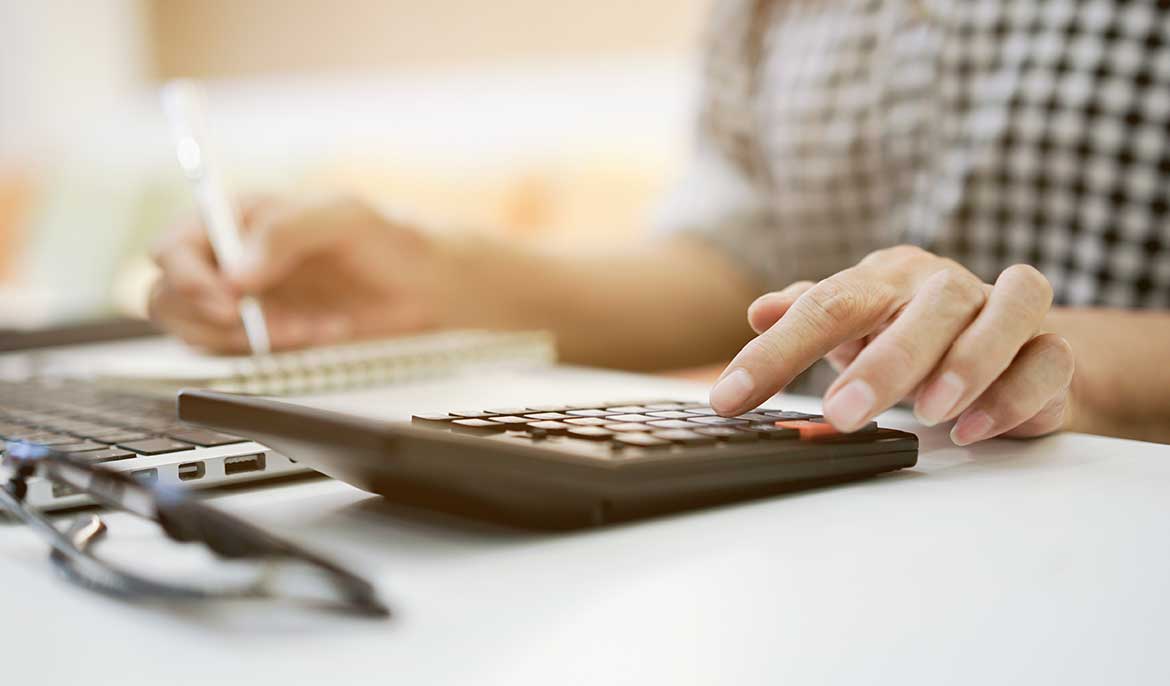 Pay by Phone:
Credit and debit card payment can be made by calling one of our Patient Service Representatives at one of the following numbers.
Oahu
(Local Calls)
Neighbor Islands
(Big Island, Maui, Kauai, Molokai)
Outside of Hawaii
(Toll-Free for Guam & Saipan)
Back to Top
New Patient Statement Effective: 9-1-2020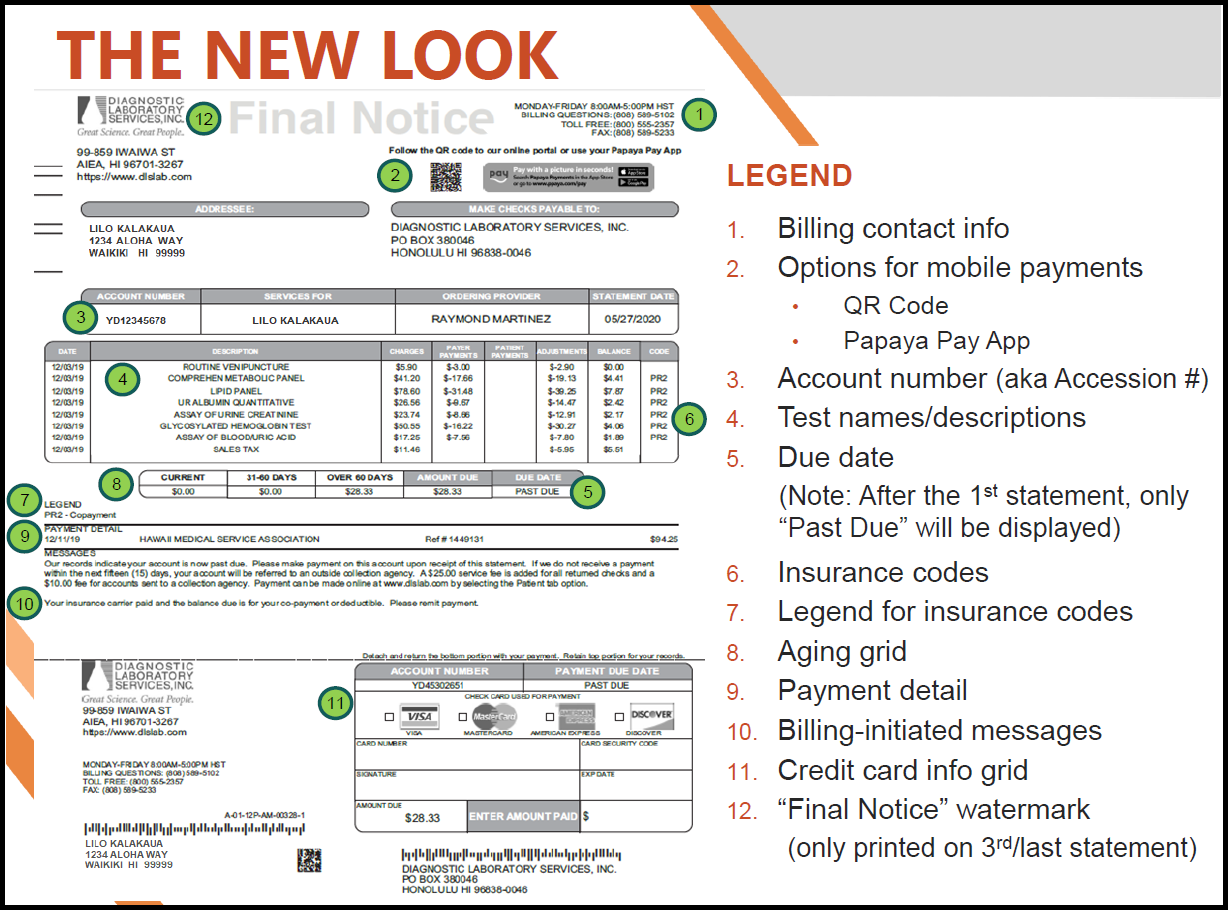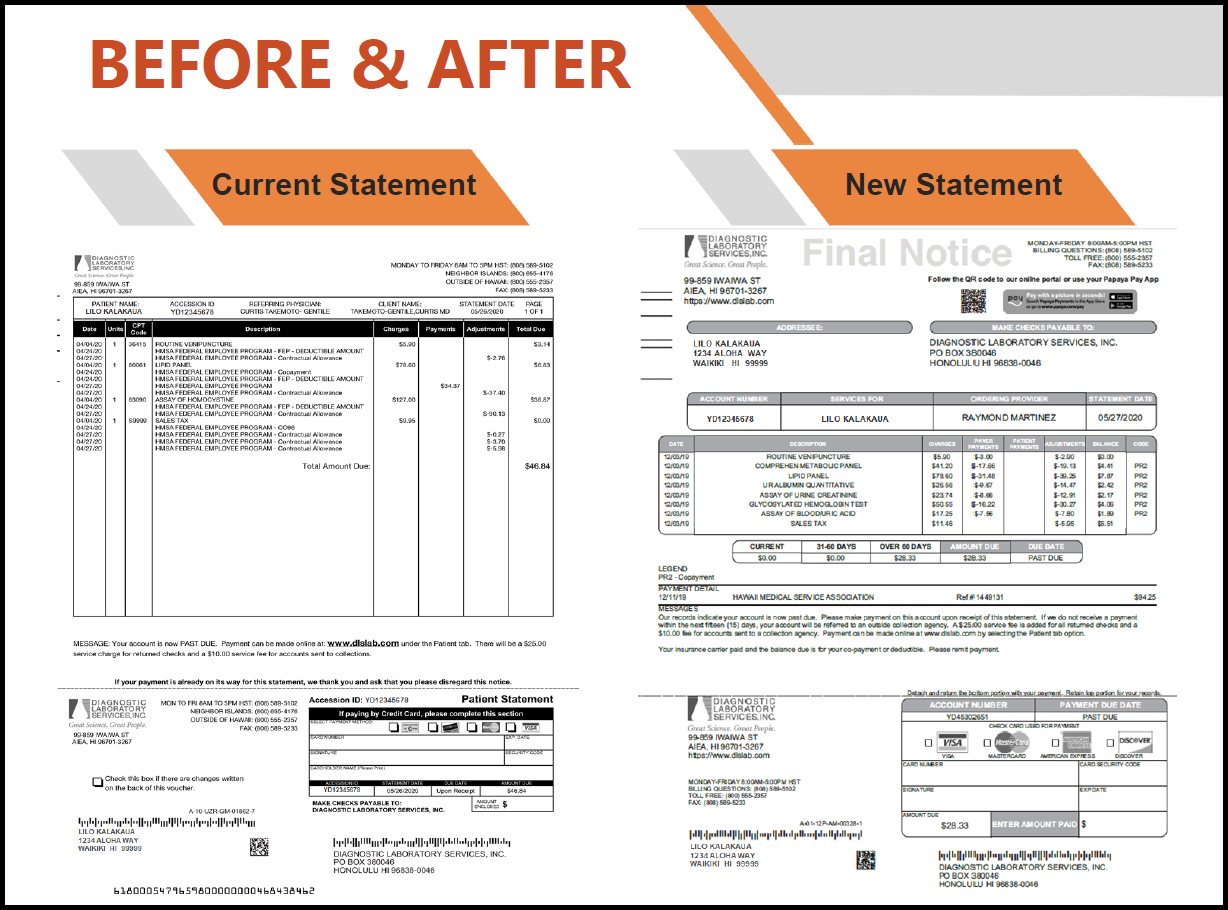 Frequently Asked Questions
Q: What are the hours of the Business Services (Billing) Department?
A: 9 am to 5 pm Monday through Friday Hawaii Standard Time.
Q: How can I contact the Billing Department if I have a question regarding my bill?
A: Contact our billing department at one the following numbers:
Q: What is an Accession ID?  Is this the same thing as an Account Number?
A: An accession ID is a unique number that is generated by the computer and is assigned to your specimen collected by the date and time of collection. This accession ID number is used to provide your physician with the lab results and is also used for billing purposes. Each encounter for a specimen collected is assigned its own accession number. This has been replaced with "Account Number" effective 9-1-2020.
Q: Can I update my address and insurance information in the Patient Portal?
A: Not at this time, the system does not accept any changes / updates to your address or insurance information.
Q: Did my insurance carrier make a payment?
A: Under the DESCRIPTION column of your DLS statement will have your insurance name with a corresponding amount of payment listed on the same line under the PAYMENT column. You may also refer to your explanation of the member benefit report sent to you by your insurance.
Q: What if I don't have insurance or my insurance doesn't cover a test?
A: Diagnostic Laboratory Services offers a discount at the time of service for patients without insurance and for non-covered tests. This payment will be considered as paid in full and no claim will be filed to your insurance carrier.
Q: I'm covered by an insurance plan; why did I get a bill?
A: You may be responsible for a deductible, co-payment, or balance because your plan does not cover 100% of the charges. Please check the explanation of the member benefit report from your insurance provider for an explanation for the amount that is owed.
Q: I paid at the time of service, why am I getting a bill?
A: An additional test may have been ordered by your physician and / or based on your lab results from the original tests ordered:
Q: Why are my two (2) insurance carriers denying my claim?
A: Please contact your insurance carriers to resolve dual coverage benefits and primary plan.
Q: What is the balance owed for this Account Number?
A: This information is located on the bottom right-hand portion of your statement in the AMOUNT DUE box. If you believe that you have already paid an amount due but continue to receive statements for that accession, please contact our Billing Department.
Q: I've visited DLS more than once in the past months, how can I pay the total amount due for all my visits?
A: One of our Patient Service Representatives would be pleased to assist you in locating all open accessions. Please call our Billing Department.
Q: How do I get a refund?
A: If you are aware of a duplicate payment and have not received a refund, please call us at one of the following numbers:
Q: What insurance companies participate with DLS? How do I find out if mine is one of them?
A: For a list of Participating Insurance Providers, please refer to Participating Health Insurance Plans listed above. If your health plan is not listed, please contact your insurance carrier to verify participation.
Q: Why does DLS always ask for my insurance card?
A: Verification of your insurance information is required so we can continue to provide customers excellent service and accurate processing of your insurance claim.
Q: How do I get my test results?
A: Please contact your ordering physician for your laboratory results or visit one of our DLS Locations.
---
Back to Top